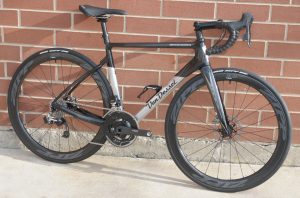 We had the opportunity to build up an awesome bike this week! We started with the Van Dessel Motivus Maximus frame, which is their carbon road racing frame. It's no secret at the shop we are big fans of Sram and Zipp componentry, and so is our customer, so we went all out on a custom build for this bike with Sram Red Etap HRD, Quarq power meter cranks, Zipp bar-stem-seatpost, and Zipp 303NSW wheels.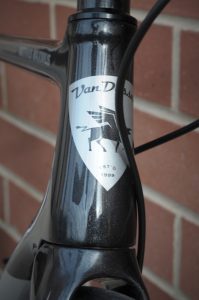 The Motivis Maximus frameset is impressive in it's versatility to ride in different conditions while still maintaining the frame geometry which will make this a fast and tight-handling race bike. While the major trend in road bikes currently is to go in the all-road direction, stretching out the frame to accommodate really big tires, the Motivus finds the sweet spot between tire clearance and quick handling.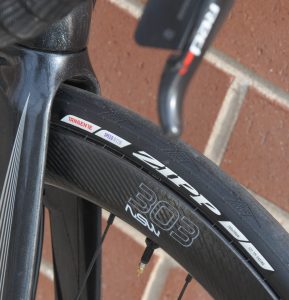 Our customer spec'd the bike with Zipp Tangente 700x28mm  tires which on the 19mm internal width Zipp rims measured exactly 28mm with a caliper. The rim's are designed to be aerodynamically optimized for tires in the 25-28mm range, and we were really happy how the Tangente tires mounted up tubeless on the Zipp 303NSW rims. The bike still has clearance left over to fit a 700-30mm tire if you would like. While not as extreme as a gravel or all-road bike, that amount of tire clearance is impressive on a road racing frame with 405mm chainstays and a 74-degree seat tube. This bike will be able to hold a tight line through a corner right next to the most popular road racing frames while at the same time letting you run bigger tires than most if you want to ride some nasty pavement, cobbled roads, or find yourself off the road entirely doing some light gravel or dirt riding.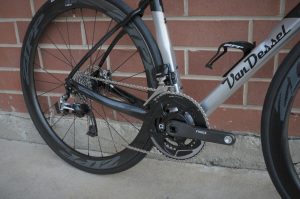 The Sram Red EtapHRD shifting system is amazing. We have been confidently building bikes and using the Etap system since the 2015 road racing season, before Etap was officially launched by Sram. It's so simple and clean to set up the shifting system without cables or wires, and after setting up and maintaining Etap bikes in harsh racing environments we have no doubts about the system's reliability.  The hydraulic disc brakes allow for great modulation and tons of stopping power on the 160mm front and 140mm rear rotor. We opted for a WiFli rear derailleur with an 11-28 XG1190 cassette and Sram Red Dzero Quarq cranks with 52/36 chainrings. This gives our customer a great range right now, while leaving the option to add a wider range cassette in the future. The rider has plans to race and ride the bike in some pretty crazy places, so we made sure to keep that in mind while putting together the build kit.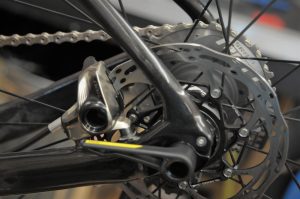 The last detail on the bike which got us excited is the brake/wheel/frame integration. Being a semi-aero carbon road frame it really makes sense to use the flat-mount caliper system to get the brake caliper tucked in tight between the stays. Not only does this look really clean, it is also a more aerodynamic and lighter way to mount the caliper. Small details like the Centerline rounded brake rotors and Mavic Speed Release through axle system make a statement about this bike's race-readiness. This is the first bike we have built up using the Speed Release system, and we have to admit it is pretty neat. We wanted to keep the bike relevant to innovations in the near future for racing. The idea behind the Speed Release system is unlike regular through axles in that the axle has a collett which keeps it with the hub when you remove the wheel. The fork and rear dropout have one side open, unlike regular through axle dropouts. This allows for very fast wheel changes in a racing situation, and there is a good chance neutral race support programs will adopt this technology as disk brakes become more common in road racing. Mavic has kept the standard open so other companies can make compatible wheels for this reason. Even aside from race applications, the Speed Release axles are really nice to work with and make taking the wheels on and off the bike a breeze. The levers have a built-in torque setting, so you just tighten them until they click, then keep turning them clockwise until the lever is in the desired position.
We can't wait to see what this bike and it's owner get up to in 2018. We'll try to get a review once the bike has some miles on it. In the meantime, check out the bike builder on Van Dessel's website to get some ideas for your next build, and let us know if you have any questions. Unlike most bike manufacturers, each Van Dessel model can be ordered from the factory in a myriad of different component options as a stock build, or we can go all-out like this build and customize whatever components you would like.