The mission: build a custom mountain bike weighing 20lbs with gears and front suspension, and make it durable enough to hold up to endurance mountain bike racing and trail riding on chunky East Coast trails. Not an easy task, but also not impossible. Obviously, carbon fiber would be the material a majority of the bike would need to be made of, and we wanted to make sure that we used carbon with a reputation for quality and durability, which is where Santa Cruz comes in, with their lifetime warranty on carbon frames and Reserve wheels.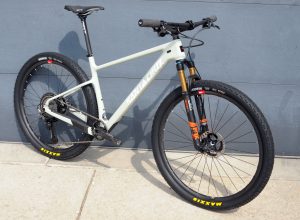 For the drivetrain and brakes, our customer wanted to go with the newest 12-speed version of Shimano's XTR 9100 group. We went with 2-piston brakes to stick with the cross-country theme of the bike. A Fox Fatory 32 step cast fork was installed to take care of suspension duties on the bike. Santa Cruz updated the paint colors for this frame around the time we were getting the bike together for our customer. Since they weren't changing the frame aside from the color, we decided to stick with the 2019 version in Gloss Fog since it looks so good with the ice grey and black finish of the XTR components.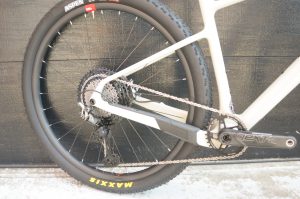 We paired a Wolf Tooth 32 tooth chainring to the Race Face Next carbon cranks using the Wolf Tooth CAMO system. The crankset is mated to the frame with a Kogel ceramic bottom bracket. We went with the cross-seals on the bottom bracket to help out with durability. The 32 tooth ring drives the 10-51 tooth 12-speed XTR cassette for an impressively wide gearing range.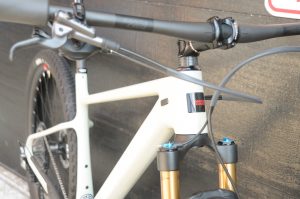 The cockpit starts out with the Santa Cruz Reserve carbon flat bar, finished off with Wolf Tooth Fat Paw grips.  This was our first time installing these grips on a bike, and the initial impression is they feel awesome. Shimano's I-spec system cleans things up by allowing us to attach the shifter directly to the brake lever, rather than needing to use another clamp on the bars.
Detail image of the Gloss Fog paint and Cane Creek Hellbender headset.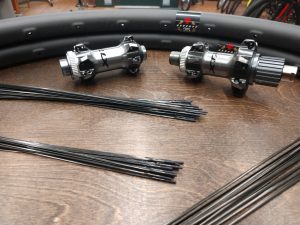 Custom wheelbuilding is one of the services we take a lot of pride in. The Santa Cruz Reserve wheelsets aren't offered in an XTR hub version from the factory, so it only made sense to build the wheels in-house. Sapim CX Ray spokes were used to keep with the theme of durability and weight savings. The micro spline XTR hubs are beautifully finished, and we were extremely please how the wheels turned out.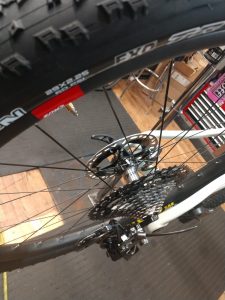 We love Maxxis tires, so the Aspen EXO was the obvious choice to mount on our wheels.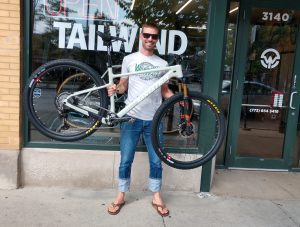 New bike day!