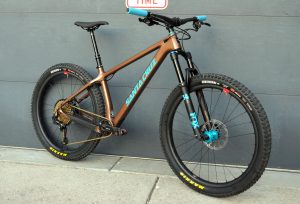 We just finished up a fun build for a customer this week, a custom Santa Cruz Chameleon. We started out with the top-of-the-line SE+ kit on the carbon frame and upgraded a few things from there.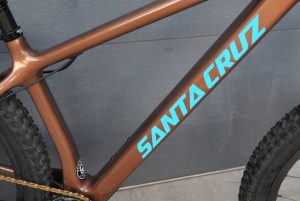 You really need to see the metallic copper paint in person to appreciate how good it looks! The blue accents on the bike really pop against the copper color.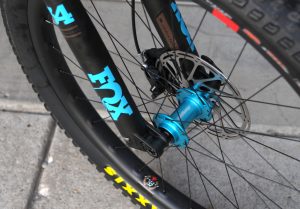 One of the coolest things about the SE build kit is the wheels that come stock with that kit. They are Santa Cruz Reserve 37mm carbon rims laced to blue Hope Pro 4 hubs, which match the blue Hope IS headset. Usually wheels are one of the first upgrades we recommend to our customers, but in this case Santa Cruz took care of that by sending the bike with amazing wheels.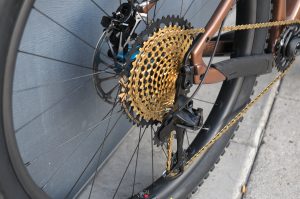 However, we did upgrade the drivetrain. The bike came stock with a mixture of mostly Sram GX Eagle shifters and drivetrain with a Sram XO carbon crank. The GX Eagle components work great, and the main reason to upgrade to the higher level Sram MTB components is to save weight. All of the Sram Eagle components are interchangeable between the different component levels, so you can mix and match to suit your needs and budget. If a customer is looking to make their mountain bike lighter, and they already have light wheels, we usually look at putting some carbon cranks on the bike, and then a higher level cassette. Again, Santa Cruz already took care of part of this by including carbon cranks in the build kit, so we decided to go with an XX Eagle cassette to save an additional 100 grams over the stock GX cassette. We couldn't put the gold Eagle cassette on this bike without the matching gold chain, so that got swapped out as well.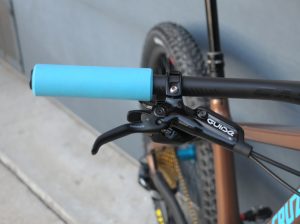 The other things we upgraded were swapping out the stock Race Face alloy handlebars for a Santa Cruz Reserve 760 Carbon riser bar. We found some ESI extra chunky grips in blue which matches the downtube logos, so we swapped them out for the stock SC lock-on grips.
Overall, this bike is the perfect combination of lightweight, rugged, and most importantly fun! Speaking of fun, if you haven't seen the Santa Cruz launch video for the carbon Chameleon, you should probably do that right now.