We just had the chance to build up another Santa Cruz Jackal dirt jumper and deliver the bike to it's new owner. These builds are always fun for the shop since the Jackal is only offered in a frame from Santa Cruz for $799. This means we get to work with the customer to spec out every part on the bike. Normally, we take a "sky is the limit" approach to this and work with the customer to help them build their dream bike from the vast array of BMX and dirtjump parts our suppliers carry. But, as everyone knows, 2020 has been unlike any other year, and like most bike shops we struggled to find enough parts to assemble a complete, custom bike.  Despite that, we were able to come up with a really awesome build, and really only had to compromise on one part. Our customer comes from a BMX background, and wanted us to get a nice set of BMX cranks for the bike. We were unable to do that in a timely-enough manner for him to pick up the bike and get some fall riding in, so we installed a set of Sram NX Eagle Dub cranks on the bike. These are a really solid, budget conscious option which will definitely keep him riding through next year when the bike parts shortage will hopefully ease up and we can upgrade him to his preferred setup.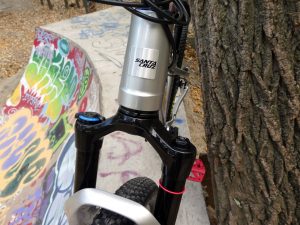 With a dirtjump bike we always like to start the build with the fork. The Rock Shox Pike DJ is our go-to for a bike like this, and luckily we were able to backorder one with silver lowers and get it delivered to the shop in time to complete the build. The silver and black color scheme on the Pike DJ matched the rest of the bike perfectly, and you can't beat this fork for durability and performance. Since there is a shortage of high quality 26″ mountain bike wheels at the moment, we decided to custom build a set of wheels. Hand-built wheels will be stronger for this application anyway, so this really wasn't a compromise. We started the build with a pair of Sram 6 bolt through-axle hubs and laced them to a pair of Sun Ringle MTX33 eyleted rims  using Sapim Strong spokes. This is an extremely robust setup, and should be able to handle just about anything the rider is able to dish out. We finished off the wheels with Maxxis Ikon 26×2.2″ tires. The Ikon is a fast rolling tire which will work well on smooth dirt jumps, park riding, and also have enough knobs to work well in light trail riding.
For the handlebars and stem we went with a 35mm clamp diameter for some extra strength and stiffness. We paired a Spoon 35x 800 bar to the Spank Split 35 stem, with a touch of red. We capped off the bars with a pair of Spank Spoon grips. The Seatpost we used is a Race Face Turbine in 30.9mm diameter. A Cromag Overture saddle and Crank Brothers Stamp pedals round out the contact points.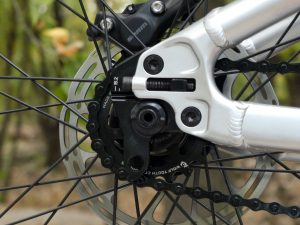 A Sram Level TLM rear brake system mated to a 160mm rotor will take care of slowing the bike down, should the need arise. We used a Wolf Tooth 20-tooth cog and black KMC bmx chain to finish off the drivetrain. One thing we were really impressed with on the newer Jackal frames is the dropouts. They use a 142x12mm through axle and are very well thought out when it comes to securing and adjusting the rear wheel and chain tension. We would have no worries hucking the biggest jumps with this setup.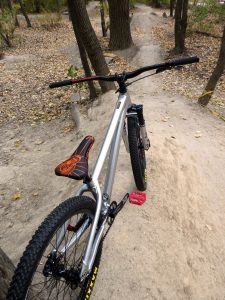 We hope our customer enjoys riding the new Jackal as much as we enjoyed building it. Shoot us an email  at the bottom of the page if you would like to start planning your own Jackal build!